How are personal pensions protected?
No one likes fretting over money issues, and it makes perfect sense to want to ensure your personal pension savings are in good hands; you spent long enough earning them, after all.
To help you make your savings go as far as possible, it's worth understanding how your pension is protected in the first place.
This may help you avoid becoming the victim of a dreadful pension scam, and if you're worried, learning more about it could help you put your mind at ease.
If you're hoping to find out more about your pension's security, you might want to read this helpful guide.
What protections are in place for your personal pension?
Are personal pensions safe? For the most part, yes. In the UK, the way pensions are protected varies, but it is based on the nature of the scheme.
If you have a defined benefit (DB) scheme and your employer is unable to pay your pension for any reason, the Pension Protection Fund will compensate you 100% if you're at the pension age (90% if you're not).
If you've signed up for a defined contribution (DC) scheme and your pension provider is unable to pay out, the Financial Services Compensation Scheme can offer you compensation. If your employer goes bust and you're on a DC scheme, you don't need to worry about your pension; it's already safe and sound in your pot and your employer can't reach it.
The Fraud Compensation Fund can help you recover your pension or compensate you in the event that you lose money from your pot as a result of fraud or theft.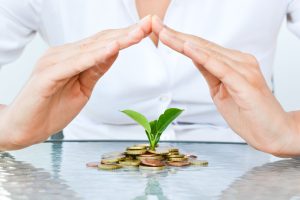 What if you received poor financial advice?
Currently, the Financial Services Compensation Scheme may be able to cover £85,000 per person if a scheme fails. Similarly, if you lost your pension because of poor financial advice, you might also be entitled to this compensation. This would first be a complaint to the adviser firm, possibly followed by a referral to the Financial Ombudsman Service (FOS). That is if the adviser is still operating. If the adviser has gone bust, then it would fall to the FSCS.
Personal pension scams
It's worth making yourself aware of pension scams, as this can help you better avoid them in the future.
Scams can be utterly devastating, both financially and emotionally, so learning how to spot them can help you take a pre-emptive approach to looking after your money.
Generally, it's best to avoid engaging with anyone cold calling you and offering you deals out of the blue.
A few other red flags that can indicate a scam pension provider include poorly worded or vague communication attempts via email or SMS, big promises like free pension reviews and tax-free withdrawal before the age of 55, or malicious websites that appear inauthentic in nature.
If you aren't sure, then don't worry, you can reach out to your current provider and ask for advice, or you can check MoneyHelper for support (it's a government website).
You shouldn't commit to anything you're unsure of, so cut off communication if you sense a red flag from a scam offer.
There are institutions in place to help you recover money from scams, but this can be a long and arduous process, so it's best to avoid them in the first instance.
Stay safe with iSIPP
At iSIPP, we recognise the importance of security and what it means to our customers. We approach pension security with the utmost care and expertise, and we're FCA regulated, and FSCS protected.
Consolidating your pensions is a great way to keep your savings safe and secure, as a combined pot is easily manageable and allows you a great deal of flexibility with your investments.
We can help you combine your pensions so you can enjoy better financial flexibility and peace of mind, all while your investments grow in value over time.
If you want to look at getting pension consolidation sorted with investment security that works, get in touch with our friendly team; we can't wait to help.
Disclaimer 
The content of this article is for general information purposes only and should not be construed as legal, financial or taxation advice. You should not rely on the information contained in this article as legal, financial or taxation advice. The content of this article is based on information currently available to us, and the current laws in force in the UK. The content does not take account of individual circumstances and may not reflect recent changes in the law since the date it was created. It is essential that detailed financial and tax advice should be sought in both jurisdictions and any legal advice, if required.
This notice cannot disclose all the risks associated with the products we make available to you. When making your own investment decisions it is important you understand that all investments can fall as well as rise in value and it is possible you may get back less than what you have paid in. You should also be satisfied that any investments you choose are suitable for you in the light of your circumstances and financial position. You should seek financial advice if you are not sure of what's best for your situation.